Crystal Flow is a flowcharting tool that generate flowcharts from C/C++ source code. It is also very useful for programmers trying to interpret code written by others. The flowcharts generated in this instance help coders to understand layers of nested variables.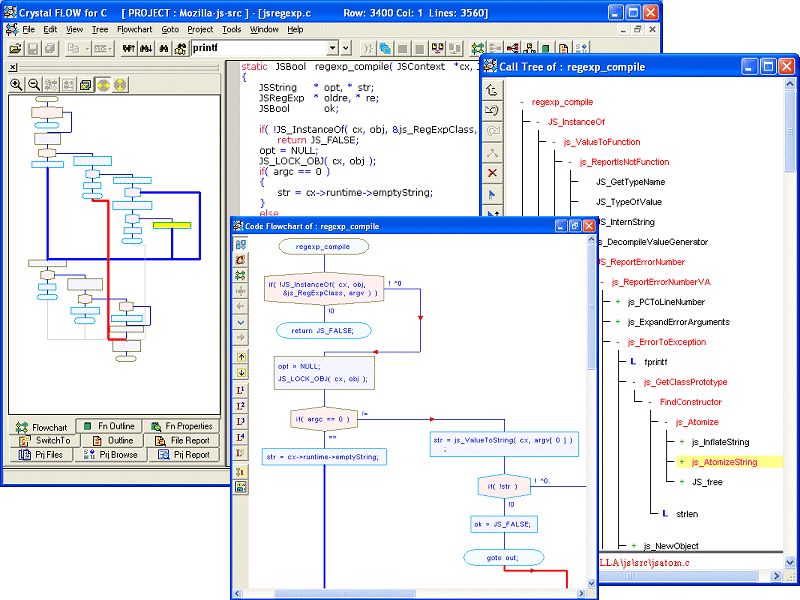 Features:
Automatic Flowcharts – Crystal FLOW automatically creates flowcharts from source code.
Detail – Each flowchart symbol contains detailed code within it, so users do not have to keep flicking between windows.
Comment-based flowcharts - Alternatively comment-based flowcharts can be generated, which are also useful to programmers and test engineers.
Export – Flowcharts can be exported in either .bmp or .jpg formats.
Pricing:
There are two different Crystal FLOW downloads available, depending on whether you require an application for C or for C++. The C (V4.65) download costs $109 for a Single User licence. The cheapest C++ (V4.65) download costs $124.
Either of these programs can be downloaded at this address.
Comments:
This is a great time-saving tool, especially for new team members on a coding project. Quickly get a visual representation of the code structure, instead of spending up to an hour building up your own interpretation.