Visustion v6 Flow Chart Generator is a flowcharting application that is primarily designed for programmers and coders. It will help users to visualise their code for a wide range of programs, including Perl, Matlab, PowerScript, ColdFusion and many more.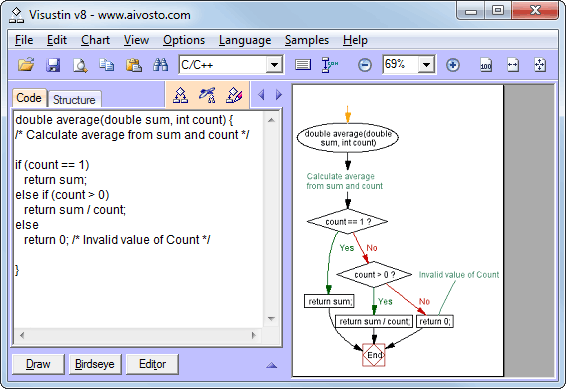 Features:
36 Languages – Visustin v6 Flow Chart Generator can create flowcharts for a total of 36 programming languages.
Automatic Flowcharting – This application converts code to a flowchart without any manual diagramming.
Editing – Automatically generated flowcharts can be edited to include comments and to adjust the layout.
UML – UML activity diagrams can also be generated by Visustin.
Export – You can export your flowcharts to Microsoft Word and Powerpoint.
Pricing:
A single user version of Visustin v6 Flow Chart Generator is priced at $249, for the standard edition. The full price list can be found here.
Comments:
Visustin v6 Flow Chart Generator is an extremely useful application for those who write code regularly and especially for those who are learning to program.